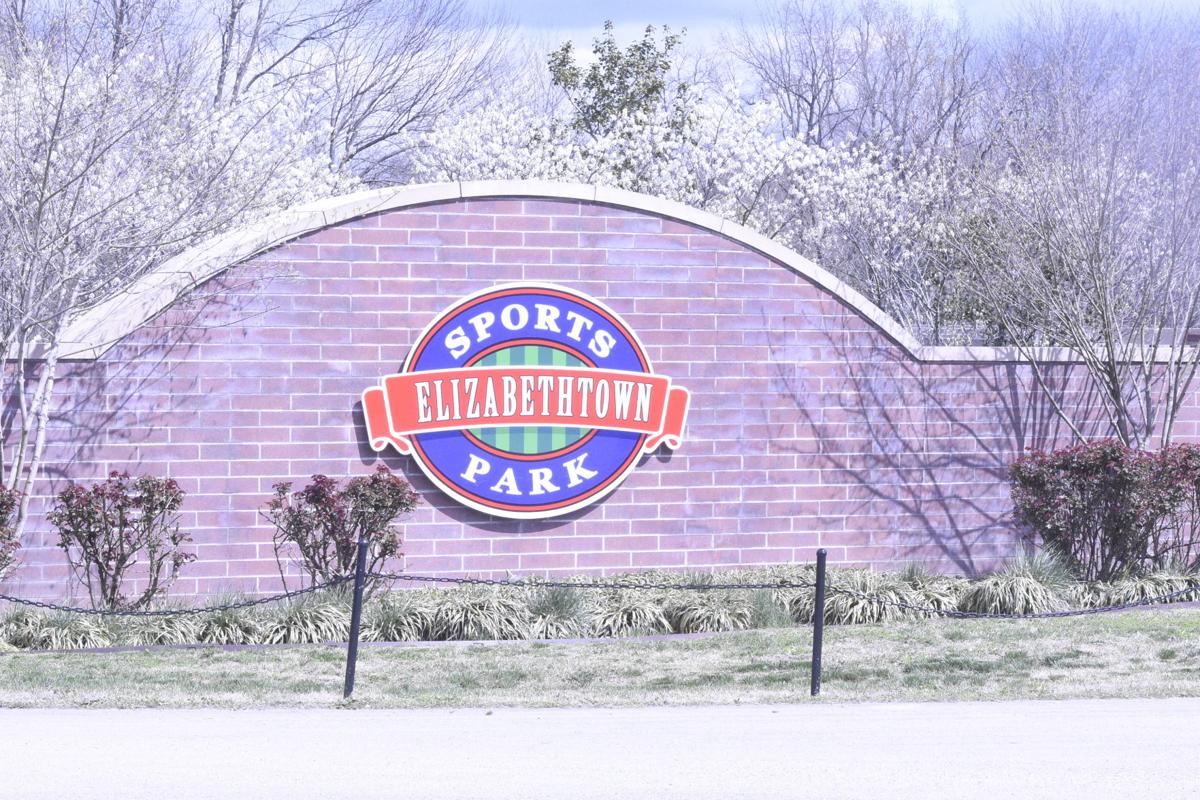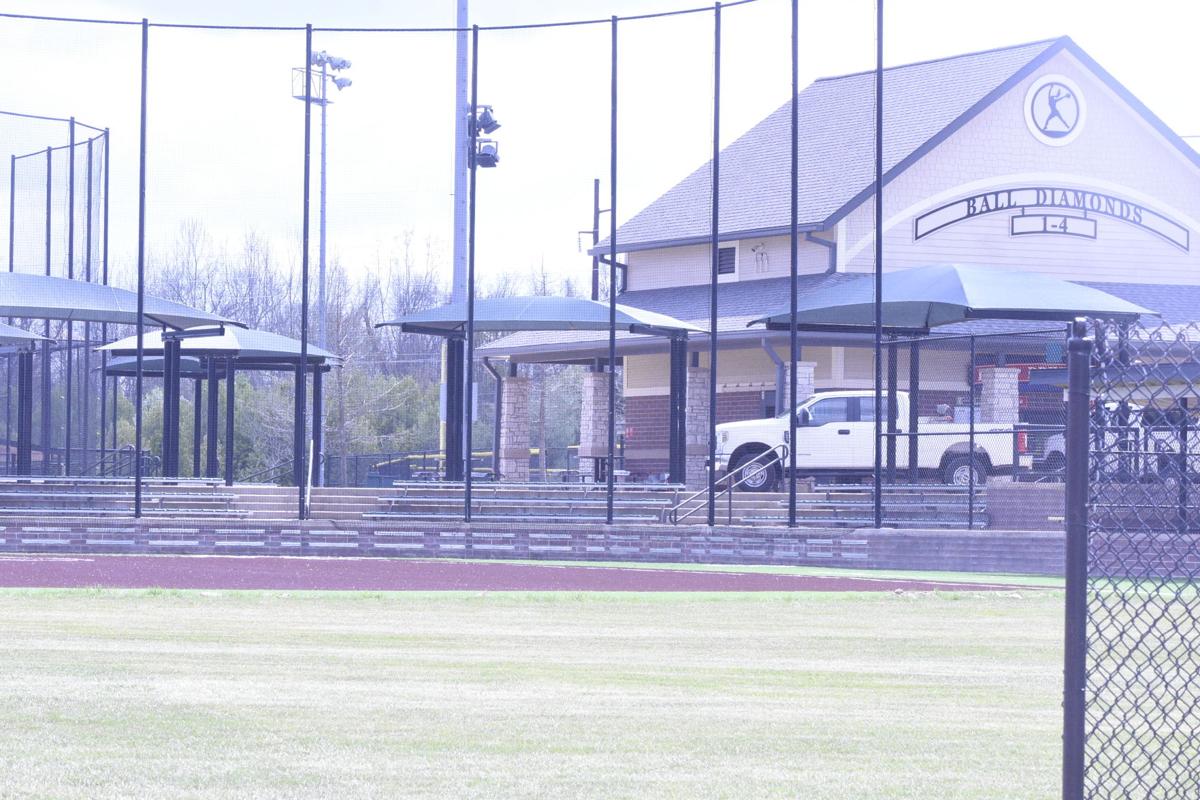 A construction sign is seen near the park's entrance. Construction and renovations continue to remin underway through the park's closure to sporting events.
The concession stand at Elizabethtown Sports Park's Miracle Field sits empty at the beginning of April because of the COVID-19 pandemic. This stand and others throughout the park will remain empty until it is deemed safe for players and fans to use the facilities again.
Flowers and trees are blooming, the weather is waming. These are telltale signs in April that spring has returned. At the Elizabethtown Sports Park, April usually means games are being played, tournaments are being organized and fans are in the seats. But this is no ordinary April.
The COVID-19 pandemic has created a temporary new normal not only for the United States, but for nations everywhere.
This is no different in Eliza­beth­town, where businesses and events have been forced to adjust as the world fights the novel coronavirus.
While the Elizabethtown Sports Park isn't completely empty, it's been closed for athletic events until further notice. Todd Yancey, the park's general manager, said the only thing they can do right now is wait until it's safe to play ball.
"We are keeping our operations ready to open when the time is appropriate and we're told it's good to go," Yancey said. "We are monitoring the guidelines based on what's coming down from the health department and the governor and just trying to figure out when it is okay to start operating again."
With President Trump and the CDC recommending social distancing measures remain in place through April 30, the Sports Park's fields will remain empty until at least the end of April.
This does not mean Yancey and the park's staff are not working. Over the last few weeks, they have been working to reschedule events and make adjustments to the 2020 calendar.
This could mean pushing events scheduled for the spring to points as far back as tail end of the year.
"We're looking to rebook in the fall or extend our season out through the fall and then the winter months," Yancey said. "We're definitey seeing some events that wouldn't have been happening in later months in the season, that are wanting to fill in those spots."
Yancey described the situation at the Sports Park over the last few weeks as extremely fluid, with guidance continuing to come from health officials as to when it will be safe to reopen the fields.
In addition to health officials, the Elizabethtown Sports Park was a part of discussions with its associated parks as well. The park is part of the Sports Facilities Management Network, whose website lists 16 facilities across the country and reports 20 million guests anually across its associated facilities.
Yancey said the decision was a no-brainer after these discussions with health experts, SFM leaders and others took place.
"We were in communication with all our venues across the country and seeing what everybody else was doing," Yancey said. "We were taking leads from the health officials and our leaders as to what was right and we were talking with our tournament partners and looking at our own tournaments, but once we had a lot of statistics come down the helath department and from our leaders, it was a pretty easy decision to make."
Yancey explained the longstanding relationships the sports park has with several of its tournament partners has helped to quickly provide updates as to when events can be rescheduled and when it is safe to reopen the park to athletes.
Yancey added it was too early to tell what kind of financial impact rescheduling these events to later dates would have. This impact ranges from fees for hosting tournaments at the property to fans making purchases at the concession stands.
April typically begins the start of the park's busy season, with many baseball, softball and soccer tournament usually on the schedule around this time. Yancey said they are usually in full swing by May.
Some early events and sports set to kick off the spring calendar included the new Elizabethtown Flag Football League, which was set to begin its first season the weekend of March 20.
"We're actively working for any loss that we have to make sure that we definitely account for it and we don't lose any business, that we're actually gaining it back in the fall," Yancey said. "Anything that is postponed, we're looking to make sure we still have it."
One area of the park that has not stopped is contruction and renovation, with trucks and workers still seen in the parking lots. Among the offseason projects Elizabethtown Sports Park was working on included the installation of 12 new turf fields.
Yancey said while this work hasn't been interrupted, park staff are disappointed the installations can not be used until further notice.
"We see beautiful fields out there that we just spent all this time and effort to get built and put in place and we can't play on them right now," Yancey said. "When the time's right, we're gonna be out there and we're gonna be celebrate those fields."
In the meantime, the park will look to make sure everything is properly cleaned and sanitized to further ensure a safe environment to use these new fields.
In terms of sanitizing the facilities, Yancey said the park was already in the process of being cleaned as part of its offseason operations ahead of the decision to shut down. These cleaning operations will continue over the next few weeks.
"We're just affectively going back and doing a much more thorough cleaning through it all right now," Yancey said. "We still have some staff on sight that are there and taking care of that cleaning as they go, but it is helpful that the park was closed during the time that this happened."
Yancey said the reopening of the park will be contingent with the guidance and recommendations from local officials. This could include a variety of factors that need to be in place in order to provide a safe setting for tournaments and other athletic events.
"We're certainly staying flexible as to what that looks like when we reopen and we're having those conversations. We're gonna take the lead from our health department and leaders to see how we do that," Yancey said. "We're gonna continue to monitor it and follow those guidelines and see where that takes us."
* ( 16 Different Amateur Sports ) *
( Teams, Officials, Tournaments, & Facilities ) *
1-800-622-7370
. . . . . . . . . . . . . . . . . . . . . . . .
www.sadlersports.com/soda
. . . . . . . . . . . . . . . . . . . . . . . . 
"Proudly Serving The USA/Canada 
Since 1981"

www.sportsplexoperators.com
. . . . . . . . . . . . . . . . . . . . . . .

. . . . . . . . . . . . . . . . . . . . . . . . . . . . . . . . . . . . 
"Proudly Serving The USA/Canada 
Since 1981"
. . . . . . . . . . . . . . . . . . . . . . . . . . . . . . . . . . . .
** "STAY HOME ** STAY SAFE" **