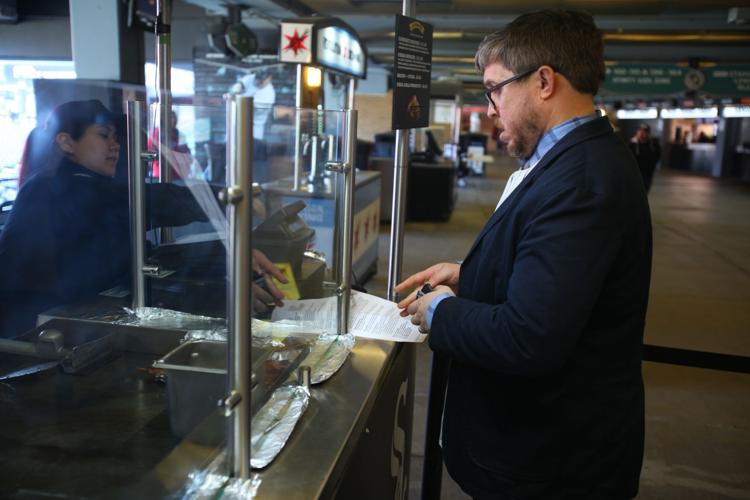 The Chicago White Sox are rebuilding and are likely to lose more games than they win this season.
But it's still an exciting time at Guaranteed Rate Field, a chance to see young talent develop as the Pale Hose tries to replicate the tear-it-all-down-and-stockpile-prospects approach that propelled the Cubs and Houston Astros to World Series titles. And of course the team has rolled out new food, amenities and craft beer this year.
Guaranteed Rate Field now offers than 100 different beers, including from beer sponsors Modello, Revolution and Goose Island, said concessionaire Delaware North Operations Manager Rebecca Spalding.
"We have the most craft options out of Major League Baseball," she said. "We've led the charge with that. But that's what fans are looking for. Craft beer is huge and it's definitely something that's hot right now. So we're excited to be able to provide that."
Last season, Sox Park replaced the Miller Lite Bullpen Sports Bar in right field with the Craft Kave, which sports more than 75 craft beers from 38 different Midwestern breweries, including 3 Floyds in Munster and 18th Street in Hammond. Fans could watch other games or horse races in the craft beer-themed sports bar, and pay a surcharge to sit outside right over the right field bullpen, with a view that feels like being on the field. It proved so popular they've added a Craft Kave Express location with 40 different brews on the 500 level.
"It's something no other ballpark has, and it was widely received by fans," Spalding said. "We wanted to make it available to fans on the 500 level so they don't have to travel as far to try all those craft beers. It's a little bit less space, so it's just the more popular selections."
Craft beer lovers can choose from a wide variety of India Pale Ales, pale ales, stouts, lagers, pilsners, sours and wheats.
"We have the full gamut of beers available," Spalding said. "We don't want all IPAs because we know our fans like all different types of beers. Whatever your taste is in beer, we want to have that for you. Craft beer lovers also want to try new things, so we, for instance, had a jalapeno ale. It was different. Craft beer lovers want to try new things."
The Craft Kave is planning a mug club, where participants could potentially earn T-shirts or their photos on the wall after trying enough varieties of beer.
Chicago-based Revolution Brewing also is pouring six of its acclaimed craft beers on tap in the remodeled Revolution Brewing #SoxSocial Tap room on the 200 level, which is in an all-new location that's accessible from the stairs at Section 157. Fans can go there to charge their phones, get free T-shirts or other prizes when they check in with the MLB Ballpark app, or snap selfies in front of a life-sized Jose Abreu bobblehead or a huge map of the surrounding Bridgeport neighborhood.
There's a rotating draft beer menu, a full bar with wine and cocktails, basic food items like pizza, phone chargers with lockers, comfy seats for hanging out and 22 televisions. There's an outdoor patio where fans can chill out and watch the game if they prefer the view there to their own seats.
"Revolution Brewing is an established hometown brewery that shares our passion for connecting with fans who love White Sox baseball in new ways," said White Sox Senior Vice President of Sales and Marketing Brooks Boyer. "We are thrilled to grow our relationship with a brand that has such a strong presence in Chicago and among our fans."
Other new features at the park include the new virtual reality batting cage in The Chicago Sports Depot near Gate 5, which simulates a 90-second home run derby at Guaranteed Rate Field, and the new Grab-'n-Go food stand in Section 142. Similar to a 7-Eleven or Walgreens, the kiosk offers beer, pop, milk, juice, fresh fruit, yogurt, hummus, salads and wraps that are often somewhat cheaper than more traditional ballpark fare.
"It's meant for fast transactions," Spalding said. "Just like at an airport, it has beverages, salty and sweet snacks and healthier choices. It's a one-stop shop for fans to get items that couldn't find anywhere else in the ballpark. We do get requests for healthy items, and want to have that available for the fans that like it. It's definitely a need our fans do have. People are always in search of healthy options."
There's also a wealth of new concessions on the 100-level and 500-level concourses, including Affy Tapple Caramel Apples, Chocolate Caramel Pretzel Rods, Churro Ice Cream Sandwiches, Cuban Burgers, Hand-Scooped Ice Cream, Johnsonville Specialty Sausages and Organic Apple Strawberry Frozen Juice Cups.
For fans lucky enough to land seats in the club level, there's also new Buffalo Chicken Empanadas; Nashville Hot Chicken Sliders; provolone-stuffed dough balls known as Knuckle Balls; and the South Side Horseshoe, a spin on the classic open-face Springfield sandwich that loads Italian sausage, giardiniera, hand-cut fries and Modelo cheddar sauce on thick-cut Texas toast.
. . . . . . . . . . . . . . . . . . . . . . . . . . . . . . . . . . . . . . . . . . . . . . . . . . . . .

It's Never To Late To Save Your Program Money !
Check Out Our Insurance Program Today !

www.sadlersports.com/soda
. . . . . . . . . . . . . . . . . . . . . . . .
 "Proudly Serving The USA/Canada Since 1981"
www.sportsplexoperators.com
. . . . . . . . . . . . . . . . . . . . . . . .
"Proudly Serving The USA/Canada Since 1981"
. . . . . . . . . . . . . . . . . . . . . . . . . . . . . . . . . . . . . . . . . . . . . . . . . . . . .