The Bridge Sports Complex offers indoor sports facilities for area residents of all ages for whenever cold weather decides to arrive.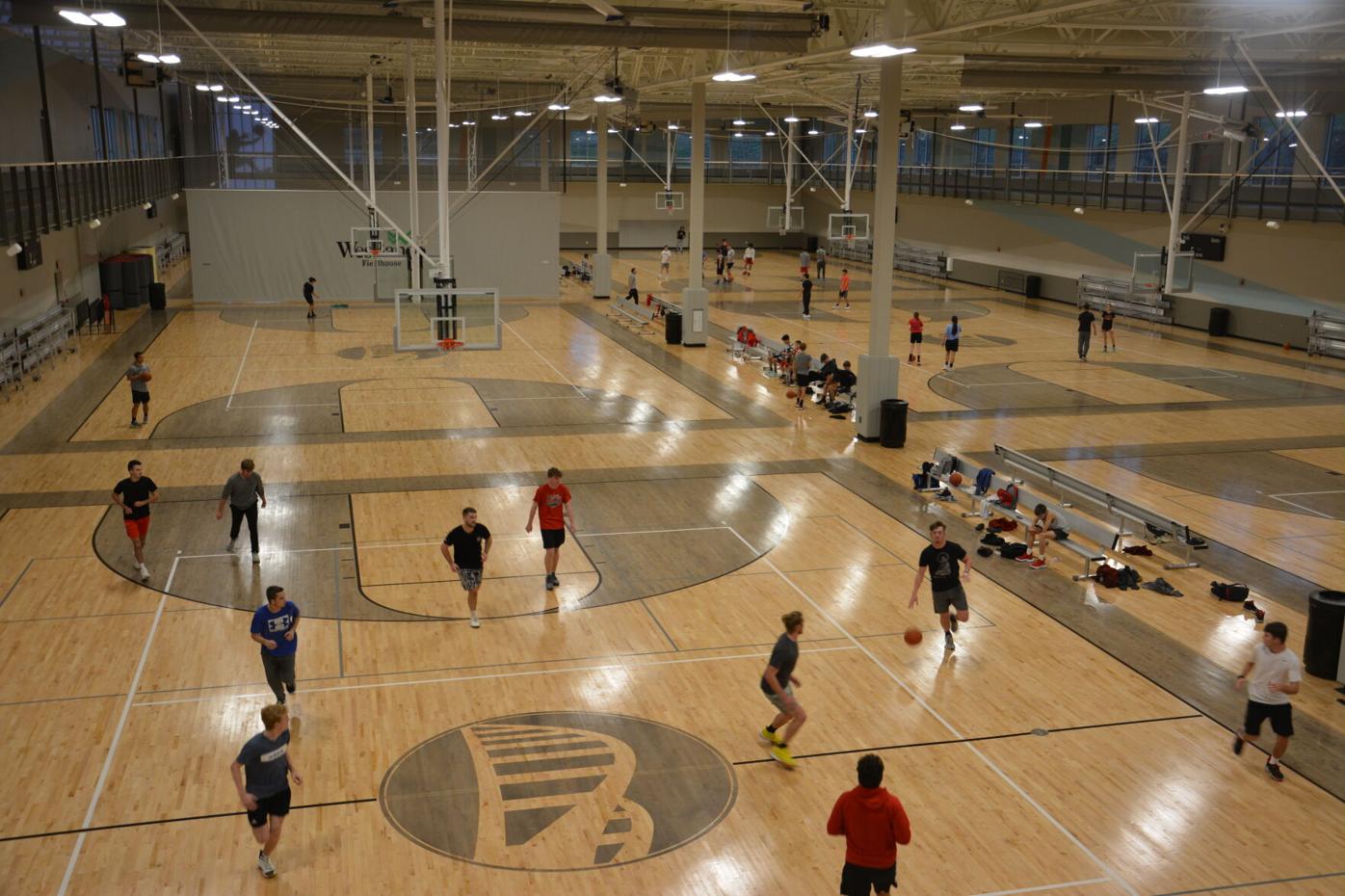 All ages utilize The Bridge Sports Complex's six hardwood courts for basketball, volleyball and pickleball.
Local residents take advantage of the Bridge Sports Complex's fitness center and cardio equipment.
***********************************************************
BRIDGEPORT, W.Va. (WV News) — More than 2,500 youth and adults from Harrison County and throughout the tri-state region have taken part in events hosted by The Bridge Sports Complex in the first six months of operation, according to Andrew Kurtz, director of business development & events for the city of Bridgeport.
The long-planned development is opposite the Bridgeport Recreation Complex on Forrester Boulevard.
The estimated economic impact of $1.9 million so far through 16 tournaments or events led WV News/The Exponent Telegram to recognize The Bridge Sports Complex as its Public Project of the Year.
Mayor Andy Lang, who plans to become one of the complex's more than 2,000 members next year, called the first six months "highly successful" and looked forward to hearing more about the $37 million complex in January.
"We are very proud to have this facility," he said. "This is for Bridgeport, for Harrison County and for North Central West Virginia. …This is for us, but it's also for the next generation and the generation after that."
"We are a multi-use facility with room to grow, and this is really going to up the game for the way of life here in North Central West Virginia," he said.
State-of-the-art amenities for a variety of sports and fitness activities are among the facility's offerings, including:
— A fitness center, elevated walking track, cardio and strength training equipment, free weights and group fitness classes.
— A nearly 3,500-square-foot indoor turf field for year-round soccer, lacrosse and flag football, and retractable batting cages with pitching machines for baseball and softball.
— A 10-lane competition swimming pool and a recreation warm-up pool.
— Six hardwood courts suitable for basketball, volleyball and pickleball.
— An indoor "Clip n Climb" area, featuring over 30 indoor climbing walls and an auto-belay system.
— Meeting and event spaces, a cafe and concessions and an outdoor turf field.
Lang recalled that the indoor walking track was the most sought after community improvement expressed by residents in surveys.
"The vision took years for a group of people to come up with the project and actually see it through," City Manager Randy Wetmore said. "There's a lot of credit needed because of how far it's come. It's taken a lot of work by council, staff, those we hired, etc.
"Since (The Bridge Sports Complex) has opened, I'd say it's gone better than anybody dreamed. It's exceeded all of our expectations."
Some early financing struggles delayed the complex's opening until June 26, but Albert M. Higley Co. of Cleveland continued work on the project despite the COVID-19 pandemic.
"When you consider the size and complexity of that project, things went about as smoothly as a project about that size could go," Wetmore said. "We had very few problems of being able to work together to make sure the project was done. We went through all of the study and analysis, issuing the bonds, getting bids, (but) we did it."
Home Rule legislation also allowed the city to implement a 1% sales tax.
Council members, civic groups and community members have dedicated funds and plans toward developing an inclusive playground outside the complex walls for children of all abilities
"The idea of inclusion is to integrate elements within the entire design and you don't even know that they're there. There's something for every child on that playground," said Victoria Babb, director of the Play 4 All campaign for Cunningham Recreation. "The Bridge area meets all the criteria that we look for."
City Parks and Recreation Director Joe Shuttleworth commended several organizations, including the Bridgeport Lions Club, Bridgeport Challenger League and Corridor Chapter of the Autism Society of West Virginia, as willing to help, and he credited Lang for brainstorming good ideas.
"Every person that I've talked to about this playground gets excited about it and the ideas and concepts that we have. I've got all kinds of great ideas that I want to put in place, too, that I think would just be really neat to focus on the neat aspects of our community and the airport, other businesses and stuff around here," Shuttleworth said. "We hope this project will be part city-funded, part grassroots-funded."
While city leaders continue discussions on how Bridge Sports Complex General Manager Droo Callahan and Shuttleworth can share resources and coordinate scheduling throughout the recreational seasons, Forrester Boulevard has become a hub of activity for both indoor and outdoor events.
"In the next couple years, we hope to have a seamless operation," Wetmore said. "The Bridge Sports Complex has the potential to impact all of North Central West Virginia and bring in people from surrounding states for years to come."
While planning to improve and maintain outdoor parks and facilities, council members also are dedicated to updating The Bridge Sports Complex and its offerings for decades to come by way of refinancing bonds. That includes an outdoor multipurpose field that's set to open sometime this spring that Shuttleworth said will be suitable for soccer, lacrosse, football, softball and other sports.
At the time of the council vote, Lang said bond refinancing will save the city about $250,000 per year over the next 27 years.
************************************************************
~ ~ ~ ~ ~ ~
* ( 16 Different Amateur Sports ) *
( Teams, Officials, Tournaments, & Facilities ) *
1-800-622-7370
. . . . . . . . . . . . . . . . . . . . . . . .
www.sadlersports.com/soda
. . . . . . . . . . . . . . . . . . . . . . . .
"Proudly Serving The USA/Canada
Since 1981"

www.sportsplexoperators.com
. . . . . . . . . . . . . . . . . . . . . . .
. . . . . . . . . . . . . . . . . . . . . . . . . . . . . . . . . . .
"Proudly Serving The USA/Canada
Since 1981"
. . . . . . . . . . . . . . . . . . . . . . . . . . . . . . . . . . 
[[ Available In SODA Store Online !]]
** "STAY SMART ** STAY SAFE" **