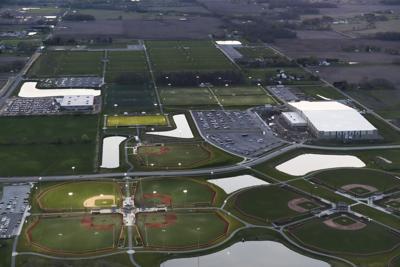 WESTFIELD, IN. — Developers of the proposed new Auburn Sports Group complex could model their business on a larger, highly successful operation in Westfield, north of Indianapolis.
Grand Park opened in 2014 and today offers 31 multi-purpose fields, 26 baseball/softball diamonds, plus numerous indoor courts and fields.
The Westfield campus drew more than 2.6 million visitors last year for sports tournaments and other events on its 400-acre grounds, a park official said.
Those visitors keep five nearby hotels filled, with more lodging expected to be built soon.
In addition to a wide variety of sporting events, Grand Park plays host to a home and garden expo and large company outings. A former director described tourism related to Grand Park as a $15 billion-per-year industry.
Along with its hotels and restaurants, the city credits Grand Park for attracting investments by other businesses such as Abbott Labs and Gordon Food Service.
Grand Park is more than twice as large as the 168-acre Auburn Sports Group site, purchased in January by local investors led by Joe and Terri Fisher. The property alongside Interstate 69 south of Auburn had served as the home of collector car auctions since it opened in 1989.
Plans for the proposed Auburn sports park include 10 indoor basketball/volleyball courts, plus a new, domed structure with six basketball/volleyball courts and a 7-on-7 football field.
Outside, plans call for eight baseball/softball fields, four soccer/lacrosse fields, more 7-on-7 football fields, a walking path and splash pad.
Auburn Sports Group's investor partners include Rod Sinn and his son, Grant, who were instrumental in the Westfield park's development, according to the Auburn company.
Auburn Sports Group looks to be an entirely private venture, while Grand Park was built and continues to be owned by the City of Westfield, which operates it in partnership with private organizations.
A director on Westfield's city staff oversees park operations, and city employees manage and schedule the park's multipurpose fields for soccer, football, rugby, field hockey and lacrosse.
Westfield contracts with Bullpen Tournaments to operate the park's baseball and softball diamonds. In the park's official guide, Bullpen Tournaments reports playing host to more than 5,000 teams at Grand Park during 2021.
Private companies, including the Indiana Pacers, operate indoor venues. The Pacers Athletic Center offers eight indoor courts and reports that more than 500 youth teams played there last year. The Pro X training center features batting cages, a weight room and golf simulator.
The city built and runs the giant Grand Park Events Center that opened in 2016 with three indoor turf fields and a spectator lounge, retail space, locker facilities, office and meeting space and administrative offices.
One of Grand Park's big draws comes from its role as home of the Indianapolis Colts football training camp, which attracted fans to watch 19 open practices over three weeks last summer.
In a 2019 interview, Westfield Mayor Andy Cook said Grand Park was never intended to make money for the fast-growing city of 50,000 residents.
"We did not build it to honor baseball or soccer or to make money from day-to-day operations. Grand Park was built to create a permanent tax base of the hospitality industry," Cook said.
"Our vision has always been to be an economic driver for the city of Westfield," said Matt Trnian, director of Grand Park. "Just watching the hospitality industry flock to this area has been tremendous. Our objective is to bring people to the community via the campus."
Westfield was home to only one hotel when Grand Park first opened, he said.
The city's Grand Park operations receive rebates from hotel bookings by visiting tournament participants, who are required to stay in local lodging, according to the park's website. The bulk of the city's income comes from sports facility rentals, but sponsorships and concession sales also contribute toward meeting the park's operating expenses, reported at $6 million per year.
As the park continues to grow, a private gymnastics center is under construction, and plans are in the works for a "tree park" with a zip line, obstacle and rope courses for team-building and fitness activities. The park already features green space and more than 10 miles of walking/biking trails.
Wright's 360 Movement Academy is scheduled to open this summer with gymnastics equipment, trampolines, a dance studio and ninja course.
Westfield's local youth sports organizations make use of the park's fields, chiefly Monday through Thursday, with weekends dominated by visiting tournament participants.
"We've been proud to stay community-driven, making sure that our community athletes and organizations are well taken care of," Trnian said.
************************************************************
"NEW" Amateur Sports Added !