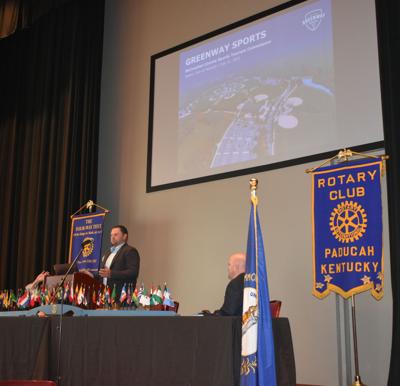 The planned McCracken County Sports Complex served as the main topic of discussion Wednesday for the Rotary Club of Paducah, as McCracken County Sports Tourism Commission Chairman Jim Dudley gave an overview of the project and shared what's next.
The sports complex, using the former Bluegrass Downs property and Stuart Nelson Park in Paducah, has a projected cost of around $43 million. Once built, the complex would host recreational sports events for community and tournament play, including soccer, baseball and softball.
In his presentation, Dudley told Rotarians the project is a 105-acre development. He also described the regional draw of such a sports facility, noting the many cities and states within a five-hour drive.
"All those people, if you have the right type of tournaments and you have the right complex, will come here for a weekend, spend the night at a hotel, shop at our stores, eat at our restaurants, increase our tourism," he said.
He went over planned features, funding sources (including naming rights), revenue sources (fees, concessions, field permits, advertising and sponsors, etc.), playing surfaces, the economic impact, staffing and other details.
There isn't an exact opening date, but it's "probably sometime in 2024."
The sports complex will have lighted fields for baseball and softball, and rectangular (soccer) fields of tournament size, along with amenities, such as a renovated Bluegrass Downs grandstand, restrooms, concessions and parking.
Dudley said one of the features is a plaza that honors Dr. William Stuart Nelson, who grew up in Paducah and graduated from Lincoln High School.
Nelson, a World War I veteran, was the first African American president of Shaw University in North Carolina and Dillard University in Louisiana. An advocate for nonviolence, Nelson worked with Mahatma Gandhi and marched with Dr. Martin Luther King Jr. from Selma to Montgomery, Alabama.
"We want to be able to really showcase everything he's done as a true ambassador of Paducah and really honor his life," Dudley said.
Dudley said the next step includes finalizing a memorandum of understanding with the city and county. It's also in the process of releasing a Request for Quote for operational development services to help in opening the sports complex on time and on budget, as he noted you have to "start selling this facility" 18 months before it's open and get tournaments booked.
"The next phase of design work by PFGW (Peck Flannery Gream Warren) Architects and their team will include further design development of the master plan, completion of construction documents for bidding and construction of the facility and administration of the construction contract," Dudley added.
Several officials were in attendance Wednesday, including Paducah Mayor George Bray and McCracken County Judge-Executive Craig Clymer. After the meeting, both officials gave The Sun an update on the memorandum of understanding.
At a June 24 joint meeting, the Paducah City Commission and McCracken County Fiscal Court agreed to partner together on two projects: the sports complex and needed upgrades for the 911 system's infrastructure. The projects are both listed in the city commission's top 12 priorities. Both sides are working toward putting together the agreements.
Clymer said they are getting down to the details and it's a matter of "getting the language right," but it's essentially a done deal.
"We've seen a first draft of it and I think both the city and county are still looking at it," Bray said, on the memorandum of understanding.
"I don't really see a lot of changes from the first draft, just a couple things that we've got to work through. We originally had wanted to get it on the agendas for next week's meetings. I'm not sure we're going to have it in the final form by then, so it might be two weeks after that, but everything's going well so far."
~ ~ ~ ~ ~ ~